Microsoft has revealed a new, cheaper 5-inch budget smartphone which comes along with 5 MP rear and front cameras.
This phone is named as Microsoft Lumia 535, a new model by the company which happens to be the first Lumia smartphone under Microsoft's very own brand name. It is said to cost about 110 euros or $135, and will be going on sale this month.
Microsoft Lumia 535 is the 5-inch budget phone that comes with 5 megapixels rear and front cameras and it will be available in a wide range and variety of colors.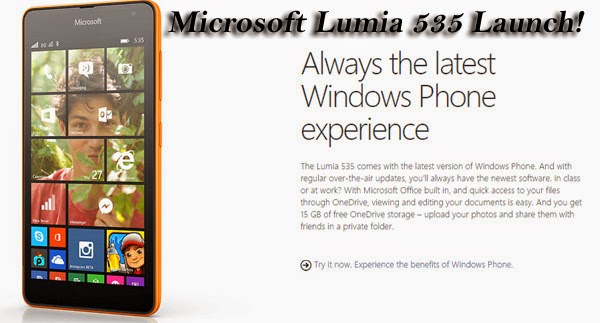 The company has unveiled a few Lumia models since it has bought the phone business of Nokia this year but those said models still carried the latter company's brand.
Microsoft says that it is trying to expand its small market share across the globe with cheaper and more affordable devices, hoping to have more customers.
The following are the distinct features/ Specifications of Microsoft's Lumia 535:
If measured diagonally, the Windows smartphone has a 5-inch screen
Comes with 5 megapixels for both front and rear cameras, making selfie captures and snap shots even sharper than one's typical smartphone's camera
The phone will be available in the colors of bright green, cyan, bright orange, white, dark grey and black
Has the flast type of LED flash
It has an internal storage of 8 GB but could be expanded via a microSD card
RAM: 1 GB
Has the processor type of Quad-core 1.2 GHz, providing its users with a smoother smartphone experience
Maximum talk time shall be 11 h (2G)
Has a minimum standby time of 23 days
Contains a maximum music playback time of 78 h
Includes free integrated Microsoft experiences such as Skype and OneNote
Has the CPU name Snapdragon™ 200
It has easy readability qualities in sunlight on its large 5-inch display