President Rodrigo Duterte signed into law a bill proposed for a motorcycle to have a bigger plate number that will be placed back and front.
Under the Republic Act 11235 or Motorcycle crime prevention act the Land Transportation Office will have a mandate to release bigger and color coded license plates. It should be read in a distance of 15 meters in front and back of a motorcycle.
The LTO should be able to produce the new license plates after December 31, 2019.
Every motorcycle that will not meet the required license plate should register before June 30, 2019.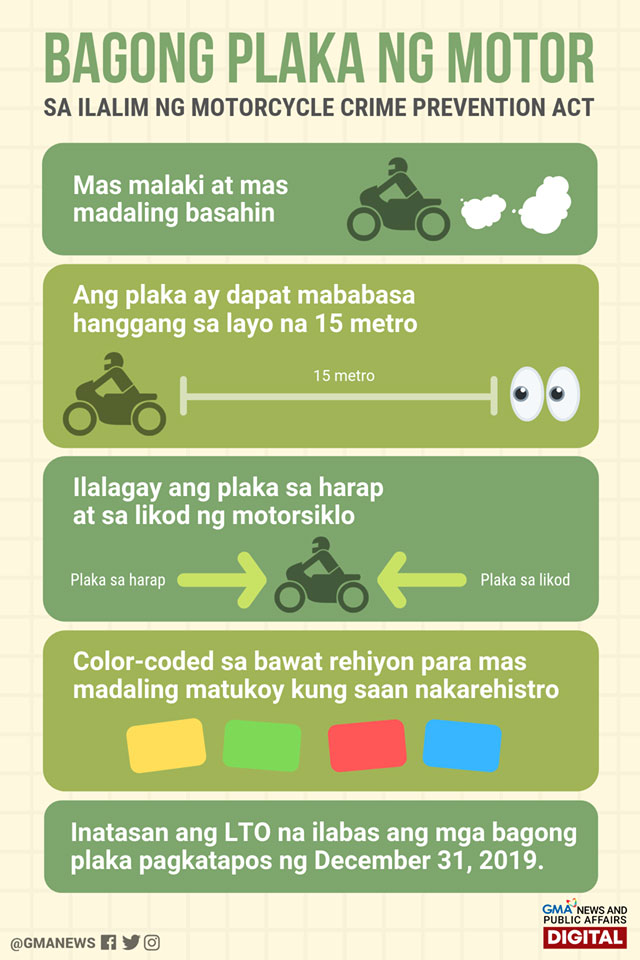 A group of motorcycle riders already thumbed down this proposal sighting the dangers it will pose to riders and commuters.
According to Joebert Bolanos of Riders of the Philippines, placing license-plates that is too big will be affected by wind and there is no assurance of mounting points to hold these bigger plates.
According to PNP data from 2010 to 2017 there are 28, 409 motorcycle riding crimes and incidents that has been reported and 46% of that cases is related to shooting. In 4,000 cases in the said cases in 2016 shows only 8 cases has been solved.
Will this new law prevent and solve the increasing crime related to motorcycle? In many cases criminals were not using a real plate, and others are using carnap vehicles.