February 19, 2014 when Facebook announced the agreement to acquire a mobile messaging application WhatsApp Inc. with the jaw dropping price of $19 Billion. This is the second-biggest tech-acquisition of all time since Time Warner's $124 billion merger with AOL in 2001.
According to the press release of Facebook they agreed to pay $12 billion in stock, $4 billion in cash and $3 billion in restricted stock shares to be given in the WhatsApp founders and employees.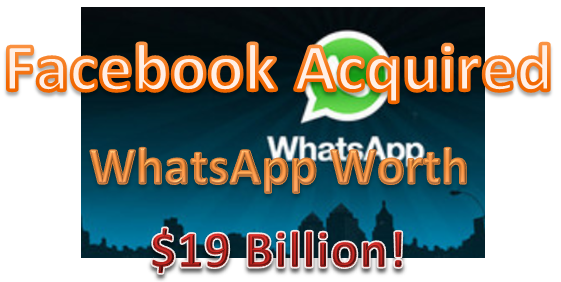 What is the history of WhatsApp?The story of $19 Billion baby is one of hard work and dedication. Jan Koum, the founder of WhatsApp – and soon to be a billionaire – is another example of college dropout successes.
At the age of 16, Koum and his mother transfer to Mountain View, they live in a small apartment though government assistance. His mother took up babysitting and Koum swept the floor of a grocery store to help their living.
Koum keep educating himself – while still at school – and acquired knowledge about computer networking from the books he used to borrow. His hardwork led him to the San Jose State University and to Ernst & Young as a security tester. Soon, he was interviewed at Yahoo and got a accepted as infrastructure engineer while still at San Jose, he dropped out after two weeks. It was the time at Yahoo when he met and become friends with Brian Actor, WhatsApp co-founder. They both left Yahoo in 2007, and applied for a job at twitter and facebook but got rejected.
An Iphone made him realized that the seven-month old App Store was about to spawn a whole new industry of apps. Because of this the idea of WhatsApp started. At this point, both Acton and Koum were jobless. So Koum had to squeeze what savings he had from his work at Yahoo on building and running their created app, which has now become the most popular mobile messaging application.
For the question is WhatsApp worth $19 Billion? Although some experts say that it might be too high for that price, maybe it is one of the biggest pivot of success for Facebook.
Facebook is buying 450 million loyal users and an extraordinary growth story, of almost 1mllion new users every day. 600M Photos Uploaded per day, 200M voice messages sent per day. 100M Video messages sent per day and a 100% increase year over year growth for all those numbers.
Combining Facebook, Instragram and WhatsApp, Zuckerberg will have almost 2 Billion active users. Maybe this is Facebook way of filling the global gap and eventually leads to his declared ambition of 'connecting the world's people'.
As I remember the article "The real reason of Friendster downfall" One of the biggest reason in the demise of Friendster is failure to upgrade and move to innovate. Zuckerberg is doing things to make Facebook grow, thinking fast and acting quickly, if they won't acquire the WhatsApp maybe in just few moment competitors are already managing it and taking advantage of its capacity.
In 2010 I also had my chance to earn more than I have now, but because of doubt all I have now is regrets. What if I did that, what if I act quickly? Those questions will never be answered.
Success is hiding somewhere in your path just don't be afraid to invest for you to earn more.