Bank of the Philippine Islands (BPI) announced that it will be imposing P100 in every over-the-counter withdrawals and P50 in inter-regional deposits. The said changes will be implemented starting on September 1, 2018. These new fees will be applied to Ayala-led banks: BPI and BPI Family Savings Bank.
Inter-region deposits happen when a BPI client deposits into an account which is registered in a branch located in another region other than Metro Manila. Let's say you had opened an account in Metro Manila, but you have made a cash deposit in Cebu. Then you will be charged with P50 per deposit made.
On the other hand, the cash deposits made via over-the-counter in the branch of account, any branch in Metro Manila, or any branch within the same region (Intra-region) will be free of charge.
Additionally, regardless of the amount, ATM accounts will be charged P100 for every over-the-counter withdrawal. The depositors with passbook accounts will be charged P100 for over-the-counter withdrawals only if the transaction is considered inter-region.
If you are encashing checks outside the issuing BPI and BPI Family Savings branch, you will also be charged with P100 per check. On the other hand, there will be no charge for encashment within the home branch.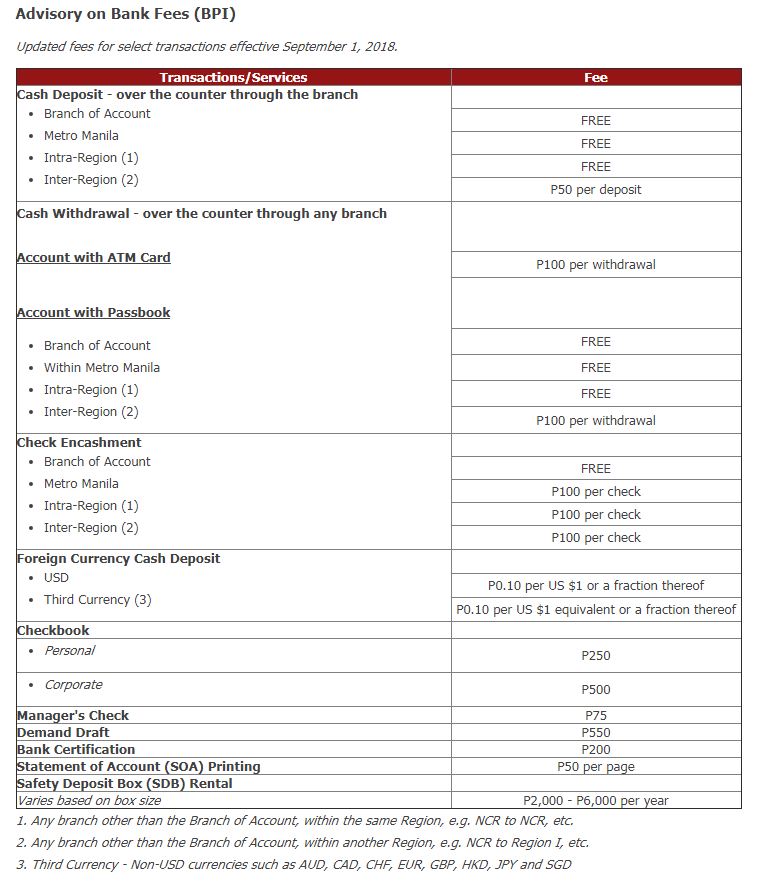 Account holders depositing foreign currencies in cash will be charged P0.10 per $1 equivalent.
As for checkbooks, the personal checkbooks and the corporate checkbooks will be charged P250 and P500 per checkbook respectively. The Manager's Check is charged P75. P550 is charged for Demand Draft and P50 per page of Statement of Account (SOA) Printing.
If you are renting a safe with BPI, it will cost P2,000 to P6,000 per year based on the size of the box.
The said charges have been announced last July 02. All of the BPI and non-BPI clients who transact are covered by the updated list of fees. Both senior citizens and PWD's are entitled to a 20% discount. BPI
RELATED: What to do when you withdraw cash from an ATM but no cash came out
RELATED: SWIFT Codes of BDO, Metrobank, BPI, Landbank, other Philippine banks